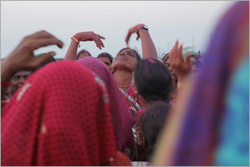 A GOD WITH NO POWER
The Book of Jasher tells this story. Terah, a rich noble in the court of King Nimrod, had twelve great gods of wood and stone in his house. As well, he had innumerable smaller gods set about in the same room. He bowed to them, gave them gifts, lived his life by them.

When Terah's son, Abram, became a man, his heart began to search for God. He looked for God in many places and never became satisfied. When he asked his father for counsel, Terah showed him the room and the twelve great gods and said, "These are your creators."

Abram asked his mother to prepare a feast so that Abram could bring that feast to the gods. Abram placed the feast before the twelve gods and then sat and waited.

He waited a long time, but not one of those gods put forth its hand to eat or drink.

The next day, Abram asked his mother to make a bigger and more delicious meal, because the gods hadn't wanted to eat the one from the day before.

Sitting and waiting all day again for any of the gods to reach out a hand to eat, gave Abram plenty of time to think. Something inside him clicked.

He took an ax from the hands of the largest god, and broke all the other statues. Then he placed the ax back in the hands of the great god.

Terah heard all the noise and came running and found Abram on his way out. Terah saw all but one of his gods shattered into pieces. Angry, he accused his son of the mayhem. "It wasn't me!" Abram said. "I gave them a feast, and they all reached out for the food at the same time, but before the biggest god had a chance. The great god was really pissed that they all were getting food before he did! So he took his ax and killed all the rest of them! In fact, as you can see, he's still holding the ax red-handed!"

Terah replied, "
Is there in these gods spirit, soul, or power to do all thou hast told me? Are they not wood and stone, and have I not myself made them?"
Abram answered his father,
"How can you serve these idols in whom there is no power to do any thing? Can those idols that you trust deliver you? can they hear your prayers? can they deliver you from enemies, or will they fight your battles for you? Why are you bowing to wood and stone which can neither speak nor hear? It's not good for you nor for the sons of men that are connected with you, to do these things; are you so silly, so foolish or so short of understanding that you will serve wood and stone?"


Abram was angry with his father for choosing those kind of gods. For living a bound, caged, blind life marked by, among other things, murderous sacrifices done in the names of the gods of wood and stone.

Terah, and the people in the culture he came from, had created their murderous paradigm: invented it, chose it, lived by it. And refused to take responsibility for it. It wasn't me . . . ! as Shaggy sings. It was the god that told us to do it. And we are the good slaves of God.

Abram realized this powerless god: that could not eat, smell, hear, speak, see, feel with hands, nor move with legs. [The Book of Jasher]

Abram's GOD
has
a mouth with speech
eyes with sight
ears with hearing
hands with feeling
and legs which move
This, rather, is the kind of GOD that has the power to deliver us from oppression.
Where do we find this GOD?


THE CANDY MACHINE GOD

Love me a candy machine. You put coins in. You push the right combination of buttons. A sweet treat is delivered to you. Just what was ordered.
There are Gods like that. A push-button god. You manage the right combination of ritual and behavior. Then salvation and other goodies result.
Give us this day our daily bread.
There is no getting without paying. Have you any money?

By the sweat of your brow.
This kind of worship is the worship of
appeasement
.
And we haven't gotten so far away from it as we think we have. Only the names of the gods have changed but the format of worship has not. We no longer use wood and stone, but rather ideas, rules, rituals, beliefs, and concepts. (Easier to carry!) But gods built with the latter are built gods, just the same.


Honestly, it's completely understandable. We find ourselves in a world that doesn't admit to control nor of making any sense whatsoever. Who wouldn't be delighted to find THE button? "Here it is!! I found it!! This way, peeps!! We just have to do THIS and everything is going to be
just fine
after all!" Become a
believer
.
Just fine.
We refuse to be in pain.

Someone else should carry our pain. Our children. Our spouse. Our neighbor. Our enemy. Our God.

Just as long as it's not me.


Give me your glory and I will be your servant and make everyone around me do what is right.
And the beautiful religion of Science may have changed the answers, but it sure as hell hasn't changed the questions. As we dabble in cause-and-effect, we may have changed the color, shape, and size of the button(s), but we are still pushing it as hard and as fast as we damn well can. Cause-and-effect is appeasement straight up, undiluted. And Law of Attraction is simply the most upgraded dashboard for that candy machine God.
And this: the tiny worship ritual of sliding right on our smart phones. Bounties are revealed.
Don't get me wrong. Law of Attraction and cause-and-effect are all cool peaches, but all these input-output combos by whatever description are the same dance, just different outfits. Appeasing morning, noon, and night. Trying to adjust our being and our doing so that we can be safe. That no one--god, devil, nature, robots, nor man--will hurt us.
Bribing the universe.
It's the same religion. Idol worshipers, all of us.
If you will PAY, if you will bring the gods GIFTS--then they might, just might, hand down a favor. They will protect. They will provide. (Gods that can't even feed themselves, yet we trust them to make our crops fertile!) A salvation that amounts to a Capitalist's wet dream.
My mansion is waiting on high.
Imam Ali called this the "worship of traders" because Allah is worshiped for the rewards expected from Him.
We are creatures of
wanting
. We want so much. We want riches. We want approval. We want status. We want protection. We want freedom. We want to eat. We want peace. We want love. And, by God, we want Answers! And since these wants in us are large, hungry, open mouths waiting to be fed, we must find the Being who can deliver the goods,
ne
?
We must have our way.
It's not the name or the image of the god that makes it an idol. It's our
way of relating
to an image that makes it an idol. If that relating is appeasement, then it is idol worship.
Because all of the gods are each names and images.
The name and image of what? If we breathe without the name of a God on our lips--? If the image of our God dissolves into silence and air--? What is left? Who do we pray to? How will we
get our way
? Who is the overlord? To whom do we pay the racket?
Thou shalt have no . . . image . . .Thou shalt not take the name of [a] God . . .
Do we even know the fuck what to do with that much freedom and safety? If there is no God coming by in order to extract blood and energy from the human . . . ?
In a religion class at university, our professor provided a framework for our comparative studies. He said that every religion has their idea of
what got broken
as well as the idea of
what we have to do to fix it
. Each religion has a 'damage' and a 'fix' that is unique to it alternative to the 'damage/fix' philosophies of other religions. As Ernest Valea puts it, "In assessing the meaning of salvation in world religions we must analyze three important aspects: The resources needed for attaining salvation, the actual way of getting saved, and the meaning of being saved."
But we can all agree that something got broken, because
this ain't it
.
It's broken, because we don't have what we want yet. (Queue U2's I Still Haven't Found What I'm Looking For:
. . . . I have scaled these city walls! . . . . I have spoke with the tongue of angels, I have held the hand of a devil . . .
I'll give you a minute while you find it on YouTube and listen to it, you know you can't read farther until you do *smiles*.)
And if the salvation we once subscribed to loses its juice, then we move on to science or summat. Or level 180 on the latest mmorpg. Same thing. Buttons to be pushed. The fix delivered.
What does YOUR God do for you? And on what basis does he do it?
Appeasement, called righteousness. The old, old, ancient way.
The giving of tokens to a token god.
ALL THE GODS AND ALL THE SACRIFICES
May you cause the gods to be,
May they, the gods cause you to be,
Each other feeding, causing to be,
You shall reach the highest bliss.
Bhagavad Gita 3:11
I am at your side, God! Do you plan my death?
Nezahuacoyotl
We've been killing each other for a very long time.
It seems to be one of our favorite attempts to make sense of things.
Thou shalt not kill.
Unless there's a reason to. And there's always a reason.
Our prime hunger is for SAFETY. We ourselves don't want to die--but someone has to. We're scared shitless as we exist in this chaotic multi-metaverse. We want to be
delivered
. We don't want to have any pain.
W
e're extremely creative with our murders.

There is the ixitpla. The rebirth of teotl depends on it.

There are the devotees: the children sacrificed to the devas. (This is where the idea of devotion comes from. I promise you, you do not want to be devoted.)

There is the hitobashira. The human pillar. In some of history, it was impossible to build a large building without a human sacrifice, usually a young female virgin or a child.
Otherwise, the building was not safe for use. But with the child dead in the pillar, now everything is okay.
Molech. Put your children into the fire.

Flower wars.

The Gods have to be fed. Sekhmet slaughters. The rain upon Noah's people. Rangda and Lamia snacking on babies.

Sacrifices of tying (binding). Sacrifices of cutting. Sacrifices of burning (holocaust). Sacrifices of burying alive. Sacrifices of tribute and payment. Sexual sacrifices. All necessary. All pleasing to the Gods. We are in debt. We are weaklings. If we want to eat; if we want to breathe; we MUST kill and we must kill in the most depraved way. This is the ancient righteousness.
There are few things that the devil loves more than religion. Satan looooooves religion.
There is no way our appetite can be satisfied . . . except with His blood. . . . Only the blood can satisfy our hunger, because the blood has been mixed and kneaded with the dough of the eternal Godhead . . .
Catherine of Sienna
It's been a long time since we killed Joshua of Nazareth, but we're still really glad about it. The infant baby Jesus whose birth we celebrate but whom we will torture later when he becomes a man. We eat him every week and call it communion. Otherwise how would we be?
Kava
. She had to be killed. It's a beautiful honor. Hazrat Hussain re-killed once a year. Who would we be without that? We are unclean and unprotected. We are purified and protected by our sacrifices.
We continue to be good little worshippers. Saw off journalists heads. Lynch young black boys. Honor kill our sisters and daughters. Put our sons and daughters in front of machine guns and glory in it. Reverence them. Reverence them so it is easier to take them and kill them. It's holy. Abu Ghraib and Guantanamo Bay. The slicing up of the unborn. (Why not wait until they are born and leave them out on a hill to die of exposure? It worked for our ancestors!) Japanese interment.
We have to round up the problem and put them where we can hurt them more easily! It's the only way to be free and safe!
We are still soaked in human sacrifice.
If we murder, we will be safe. Really, now, isn't that the dumbest idea we've ever come up with?
The murderous human.
Myth is the retelling of the founding murder from the perspective of the crowd trapped in the lie of its own innocence.
Rene' Girard
Aside from the murders, there are a slew of lesser coins for salvation--slavery, tribute, works, mental assent or agreement (so-called faith), the right words, the right length of fabric covering the correct body part: a long list of things to do/buttons to push in the candy machine. Hannah begging for a child, Samuel, and making the deal to give him up to the system.
"Sâvitrî said :-- "O Dharmarâjan! Kindly tell me in detail about those works that lead the meritorious persons to the Heavens and various other spheres." Dharmarâj said :-- O Child! He who gives rice and food to the Brâhmanas in India, goes to the S'ivaloka where he dwells with great respect for years equivalent to the measure of that food."
[more here]
Damn it. I forgot the rice. No heaven for me.

A thousand theories of atonement. Pick your favorite this week. A thousand reminders that none of this is ours and that we are owned. That we are less. That we are lost.


Assuming that deliverance is an appropriate objective (not sure it is), DOES appeasement effect deliverance? What does appeasement produce in the thinking/life of the appeaser? This is what we become: that one can die for the many. That we don't have to do it ourselves (and we can't). That there must be someone to take the blame--either ourselves; or preferably someone else.
Take this cup from me.
We're not responsible; and we're not enough. This is the
opposite
of deliverance and safety.
Very, very deep lies. Deep inside
us
.
If you want to withdraw from appeasement, what's left? If you want to stop chasing the tail of cause-and-effect,
is
there anything left? If you want to stop being the priest with the knife over the altar, or one of the worshippers bringing the lamb--what else?
Give God his son back safe and sound. Give God the ram in the thicket.

No killing of any sons. Ever.

Shall I give my firstborn for my sin, the fruit of my body for the sin of my soul? He has shown all you people what is good. And what does Yahweh require of you? To act justly and to love mercy and to walk humbly with your God.
[The Book of Micah]
YOUR IMAGE OF GOD
Now, if a man worships another deity, thinking, "He is one and I am another," he does not know. He is like an animal to the gods. As many animals serve a man, so does each man serve the gods. Even if one animal is taken away, it causes anguish to the owner; how much more so when many are taken away! Therefore it is not pleasing to the gods that men should know the truth.
(Brihadaranyaka Upanishad 1,4,10).


"We all live in prisons constructed of what we think we know."
Brent Phillips


I dreamt that I was born into this world. Ever since I have been in the dream but now I am waiting to be woken.
Ubaidullah Pandit
Karen Armstrong (author of
A History of God
) said, "A personalized God can be a mere idol carved in our own image--a projection of our limited needs, fears, and desires. We can assume that he loves what we love and hates what we hate, endorsing our prejudices instead of compelling us to transcend them."
It's not that we don't invent God. It's that we do.

C
reating God is one of the most sacred works we can participate in. THAT'S why it's ridunkulous--and dangerous--to create Gods of wood and stone (or of ideas), and pretend we are doing what they tell us to do and accept no accountability and culpability for the harm we do.
It is not God who is need of blood and flesh in order to be satisfied. It is
our (human)
insatiable appetite for murder that GOD can barely stem the tide of.
Who can we kill?
First, we killed our children before animalistic gods. Later, our paradigm was adjusted a bit and we sacrificed animals to one, somewhat anthropomorphic god. Even later, an image was presented of God himself as the only sacrifice.
I'll do it, if you people will just stop killing each other! If I kill myself (says God), will you promise NO. MORE. SACRIFICES!!!!
All of the gods and all of the sacrifices are us doing whatever the hell we want and then assigning blame to the air, to another dimension. Is that far enough to throw that blame? Stoning someone to death only works if everyone picks up a stone!

We act as if we cannot and may not say, "No, thanks." (It wasn't me . . ! It was the god that made me do it . . !)

If you refuse to play, if you become willing to never pick up the stone--then immediately there is a new God. A God that doesn't stone.
It is imagined that people derive their values from scriptures. Rather it is that they insert their values into scriptures. Reza Aslan

We do not read out what is in the texts, the religions. We read out what is in us.
Whenever you read the word 'god' automatically translate that as 'paradigm'.

What is your god? What is your paradigm?

I found a story about Rabia al Adabiya. Hassan asked to borrow Rabia's Quran. But as he opened it, he found many marks and corrections--words crossed out. He was deeply dismayed. "You cannot edit the Quran!!! It's not allowed!" Rabia replied, "I have seen God face to face, and I have changed the book according to my experience. This is my book. This is my possession." (
Rabia Story
)
There are only two religions. The religion of bloodshed. And the religion of life. All the other systems (and individual choices) of human thought, belief, and behavior can be considered an expression of either of these, no matter what else the systems may represent additionally or in the meantime. What I mean is, a person who says they are Muslim, Christian, Hindu, atheist may be of one or the other--of bloodshed or life.
It is
people
who choose who they are and what they bring to this world. Religions and other belief systems do not choose.
There is a parable about the Torah. God only gave one law for the Torah. But the people said it did not have enough explanation. So God gave some more rules for them, rules of a second degree, such as the Ten Commandments. But the people said, How do we do these ten commandments? So then, at their request and in his frustration, God multiplied the rules for the people, which are all the this's and that's recorded in Deuteronomy and Leviticus. The point is that God gave the third degree of all the hundreds of detailed rules because the people remained unwilling and ignorant of the actual Torah, which is just one law. They couldn't actually do it. They didn't want to do it. They wanted to
imagine
God in some other place than the first and only law. So God obliged them with hundreds of rules to keep them busy until they had a true desire to know him. The law is: . . .
thou shalt love
. That is the only Torah. The rest are just chains and baubles.
Similarly, if people actually could hear and understand al-Fatihah, the very first line of al-Fatihah (The Key (that Opens)), they would have the whole of the remainder of the Quran in those few words. No need to read further. No need for all the
fiqh
.
Bismillaah ar-Rahman ar-Raheem. In the name of God, the most Compassionate and Merciful.
Wherewith shall I come before the Lord, and bow myself before the high God? shall I come before him with burnt offerings, with calves of a year old? Will the Lord be pleased with thousands of rams, or with ten thousands of rivers of oil? shall I give my firstborn for my transgression, the fruit of my body for the sin of my soul? He hath shewed thee, O man, what is good; and what doth the Lord require of thee, but to do justly, and to love mercy, and to walk humbly with thy God?
(Micah, Old Testament)
To what purpose is the multitude of your sacrifices unto me? saith the Lord: I am full of the burnt offerings of rams, and the fat of fed beasts; and I delight not in the blood of bullocks, or of lambs, or of he goats. When ye come to appear before me, who hath required this at your hand, to tread my courts? Bring no more vain oblations; incense is an abomination unto me; the new moons and sabbaths, the calling of assemblies, I cannot away with; it is iniquity, even the solemn meeting. Your new moons and your appointed feasts my soul hateth: they are a trouble unto me; I am weary to bear them. And when ye spread forth your hands, I will hide mine eyes from you: yea, when ye make many prayers, I will not hear: your hands are full of blood. Wash you, make you clean; put away the evil of your doings from before mine eyes; cease to do evil; Learn to do well; seek judgment, relieve the oppressed, judge the fatherless, plead for the widow.
(The Book of Isaiah)
Heck, even the Ten Commandments, especially the first three, are anti-appeasement.
Thou shalt have no other gods. None! Thou shalt not make your gods out of stone and wood. You're free! You're the one with the choices!! Thou shalt not ask me to do what you need to be doing yourself. Thou shalt not ask me to help you harm someone. Thou shalt not multiply your rituals and sacrifices and forget to live! (Don't take God's Name in vain.) Never!
If we become willing to walk out of
appeasement
, what else is there? As we have seen, it is everywhere--threads and thick dust of appeasement integrated in all the grand human inventions and ways. What do we do without it? What kind of world
is
that? As Matt Kahn asks:
Who are we when we don't get our way
?
The passage out of appeasement is a passage of deep bewilderment.

(This is why sacrificers (murderers) refuse the passage. They cannot bear bewilderment. They require CERTAINTY. "THAT'S the one we need to sacrifice in order for everything to be all right! For sure!")

Indeed, bewilderment is most unpleasant and--well, bewildering.
Instead of refusing the pain, in order to heal it is necessary to
settle into
the pain.
The pain of being me.
But remember the song, the very first words, of every visiting angel:
Don't be afraid.
You're not going to understand one single bit of what's happening to you (i.e. the angel visit--i.e. the bare and unmasked meeting of your own damn self). It's going to be unutterably overwhelming. It will scare the shit out of you.
What the hell is happening?!?
Nevertheless--
don't be afraid
. . . .
There is no sacrifice.
There is only YOU.
It's bewildering to come empty-handed before GOD, isn't it?

There is only YOU and what you will choose and what you will create and what you will love.


The living GOD. The GOD of the living. The GOD of
living
.
This is the model that has no appeasement: 100 percent responsibility. 100 percent integrity. 100 percent freedom. 100 percent harmlessness (Ahimsa). 100 percent union.
The only acceptable gift is a joyful heart. Come with singing and praise. That is the way to come before the Lord — your own consciousness.
Neville Goddard
The man of God doesn't look for the way out. He doesn't say, "Oh, why would the Lord do this to me? If only he would give me a sign. If only he'd give us a Miracle." But the worker (planter and nourisher of a tree) doesn't ask for a miracle. He has faith in himself and faith in God. And he only asks for TIME.
[From the television show Leverage (Episode 4)]


The spirit you seek in the water is only a reflection of yourself.
[from the television show Grimm S4E18]
"I'm tired of rules that don't consider what it's actually like being in this world."
Kevin Corcoran (from the television show
Copper
)
EMMANUEL (GOD WITH US)
Clara sometimes asks me if I dream. Of course I dream, I tell her... Everybody dreams. But what do you dream about, she'll ask. Same thing everybody dreams about, I tell her... I dream about where I'm going. She always laughs at that. But you're not going any where, you're just wandering about. That's not true... Not anymore. I have a new destination. My journey is the same as yours, the same as anyone's. It's taken me so many years, so many lifetimes but at last I know where I'm going... Where I've always been going: Home, the long way around.
[the eleventh doctor, The Day of The Doctor]
Kýrie, eléison . . . ! The wind blows hard against this mountainside, across the sea into my soul. It reaches into where I cannot hide, setting my feet upon the road. My heart is old, it holds my memories. My body burns a gem-like flame. Somewhere between the soul and soft machine is where I find myself again. Kýrie, eléison down the road that I must travel! Kýrie, eléison through the darkness of the night! Kýrie, eléison! Where I'm going, will you follow? Kýrie, eléison on a highway in the light.
[Mister Mister]
What if heaven is just earth seen clearly?
Matt Kahn
Neale Donald Walsch in his book
Conversations With God
: "All action [is the] reaction [of] defense against loss. You seek to defend yourself against the loss of God."
Banishment and exile. Abandonment. Did we leave God or did he send us away? A little of both.
Except it didn't happen. You didn't lose God, and you can't. It's all one can do not to trip over GOD every where you turn.
Qi.
Iach.
Chiam.
LIFE.

Iachoiach. I am that I am. I am LIFE. That which was. That which is. That which is to come.

Teotl.


Our religion, our sacrifice, all our creations and pathways are done from a pit-of-the-stomach fear of being abandoned by God.
The crops won't grow. We won't prevail against the warlords. We will lose our children. We won't be able to feel bliss.
Because God is bliss . . . right? When things are totally fucked up . . . God is gone. Right? That's the story we are telling.
We want GOD to let us into
his
place, but I assure you he has slammed down the door and infiltrated
our
world.
God with us.
(How does God get into this world? By you being born . . .)
Jesus did not resist. Those who looked forward to deliverance were waiting for a majestic
resister
.
Make it all stop.
Mary's son let what was happening
crush him
. He resisted nothing, not even death. Not even humiliation.
What?!
Instead of making it stop, he allowed it to be. He said, Let them hit you on the other cheek.
Breathtaking and scary, isn't it? To offer yourself up to this world, life as it is? To know GOD? To know life! To know myself--that GOD with mouth, eyes, ears, hands, legs (Abraham's God). It takes so much bravery!
We hear this God:
I won't be with you unless you are perfect.
We scramble around in this world on this basis, sure that we have been abandoned and rejected, and trying to find the button to push to LET US BACK IN. But it's not GOD who speaks like this. It's the sound of our own self: "I'm only going to be with myself when I feel good." (
Teal Swan
) We've abandoned and sold ourselves. We refuse to to cry and laugh with ourselves. We refuse to allow ourselves to fall. We refuse to allow ourselves to fly.
We choose the mess of pottage over our birthright every time.


"When God can breathe, we'll all have air."Nahual
. The mask of
teotl
. The
nahual
(the house of paintings-i.e. our earth) blooms constantly, both concealing and revealing the
teotl
. Life. With us.
I have no desire for a gold-plated heaven of heavenly choirs. Shimmering light oneness. No thanks. I want to climb trees, cuddle with my cat, bite into crisp apples, entwine my body with my lovers', cry when I lose something important. Indeed, I won't be here in this place forever. I will leave, and on to my next adventure. But wherever I go, I will be taking myself. And who am I? Am I one who harms? Am I killing people along my way? Or one harmless? In any world of any amount of gold, apples, or light . . .
harmless.
"We've got nothing to do,
except for love.
Let's make a vow
you and I:
Let's plant no seeds
in this pure soil
except for love
and more love." RUMI

There is only God. Matt Khan

My name is in him.
Exodus 23:31
BECOMING
"What are you doing in the name of yagna [sacrifice]? You kill an animal and offer it to the Divine? And in this yagna you propose to kill a human being?... Now when you perform, do not kill poor animals but burn away your own selfish, foolish and cruel animal instincts in the holy fire. And remember, fire does burn, fire can burn anything, but at the same time fire brings light in the darkness. . . . Let your ignorance disappear in the light of your knowledge. Use your strength and riches for the well being of the world. That will be real yagna."
Aitreya Brahmana Lord Yagna-Narayana
To die, it's easy. But you have to struggle for life.
Art Spiegelman


"Everyone becomes a story. Be a good story."
I am that I am. T
he 'becoming' one.

Coming to the knowledge of how precious the life is that we lose (including our own) when we harm and deceive and oppress other (human) beings that we are meant to live with in community and love.

Our hearts our broken in this world. There is no way to pass through unscathed.
When our hearts are broken, we may choose.
We may choose to harden our hearts. Totally understandable. It's really hard to survive the pain. But in our hard hearts, we look for that certain sacrifice. But that sacrifice is a sign that we haven't done our real work; made the real choices we need to make.
To become
.
Or, we may choose to soften our hearts. Allow the fire the forge an excellent instrument in us.
Chrysalis.
And also to accept what is now. Exactly as we are now,
wabi sabi
(imperfectly perfect).
We determine our own blessings and cursing by our choices. (Matt Kahn)
My friend once pronounced a blessing upon me. "May you rise above the stories of our villages," he said, "and become the nameless one that's there inside us." I AM. No labels. Just myself. Just us. The more stories, the more labels (names), the farther away from GOD/LIFE we are. The sacrifice is to give up our stories and our murders.


"I am the oblation." Bhagavad Gita 9:16 We pour out our days of life for the benefit of others and ourselves. We become one who blesses.
We become a burning sun that gives and preserves the life of whatever is presently in our path.
Osho relates this story: "Bodhidharma laughed for seven days when he became enlightened -- nonstop. His friends became very worried; they thought he had gone insane. They asked him, 'What is the matter? Why are you laughing?' He said, 'I am laughing because now I see the whole ridiculousness of my search. I have been searching for lives together for the truth, and it has always been within me.
What I was searching for was in the seeker himself
. I was looking everywhere and it was within me. I was running hither and thither and there was no need to run anywhere. I could have just calmed myself down, and it was mine. It has always been mine. From the very beginning it was within me. It is my innermost being, my very being. The seeker is the sought -- that's why I am laughing. I cannot believe how I could remain in such a deception for so long, how I managed to be such a fool. And I am also laughing because I see all around millions of people searching in the same way -- searching for bliss, for God, for truth, for nirvana -- and all that they are searching and seeking and looking for can be found within themselves. There is no need to go anywhere. There is no need to do anything. Just close your eyes and look within, and the kingdom of God is yours. Hence, I cannot stop laughing.' "
Bodhidharma could have also asked Kansas Dorothy with the ruby slippers. She already had the way home with herself. The Good Witch couldn't do it for her.
Is there no other way?
There is no other way.

We are not barred from the Tree of Life. We are MEANT to make that walk.
We are gutted by the cherubim on our walk to the Tree of Life. Our hearts are broken, and we choose to live, and take others along with us if they will go. We learn to fulfill the
99 names
. We become the Name of . . . GOD.
Rejoicing and union. LIFE.
The world will not be heaven until you are heaven. You will not know heaven until
you
are heaven. Heaven is not given. It is inhabited. It is inhabited as soon as you
do
. GOD will not come to create the thousand years of peace until YOU come to create the thousand years of peace.
You carry GOD
.
Emmanuel.
"If I keep a green bough in my heart, the singing bird will come."
-Chinese proverb
I AM
GOD is a verb, not a noun.
R. Buckminster Fuller
Do you dare to surrender your life to your soul? Visudha de los Santos
Rather than the game, the idolatry, of cause-and-effect (appeasement)--instead surrender to
what is
. Open your eyes to the orgasmic bombardment of
the gifts
of GOD coming at you from every corner, within every second. The crucifixions. The resurrections.
Wounded GOD. Risen GOD.
It's all there, all the time, all yours, all love, all GOD.
Brahman
.
This earth is honey for all beings, and all beings are honey for this earth.
[Brihadaranyaka Upanishad 2.5.1 translated by T.V. Kapali Sastry]
There's nothing to ask for. Receive what is already surrounding you.
Teotl.
Love what arises, says Matt Kahn. Come what may, and love it, says Joseph B. Wirthlin. You don't need to be fixed; you were never broken, says Jeff Foster.
Rasa Lila.
The dance of the Gods.
Our breathing shows us how. Shall we embrace? Inhale says, Yes! Embrace! Hold tight! Taste! Eat! Fill up the well! Shall we let go? Exhale says, Yes! Let go! Forget and be ready for new! Dance! Become free!

Life is the ceremony.
Ariana Joy
Held, but not imprisoned. Free, but not exiled. The mandala of love and of GOD--free and held.
Human
.
Each moment is both. I am that I am. God is bound to me, and I am bound to God.
I am.
I am here.
I am here now.
GOD IS.
I don't want to be caged by the stories I inherited or the stories I have spun myself. I just want to breathe. I want to be me. And I want you to sit beside me.
I want my being to be a place where GOD can rest with me, lighting upon me like a bird.
Distilling upon my soul as the dew.

Come out of the story of time and space and progress towards a future goal, and trust a sacred moment. Take any moment. Any moment at all. This moment. For any moment is the access point. There are never any blocks – only access points.
Jeff Foster
See the heaven that already surrounds you and desire no other. No other place, no other time, just this earth heaven right here. Become harmless (ahimsa) and intimate (umma).
here is the root of the root of the bud of the bud and the sky of the sky of a tree called life; which grows higher than soul can hope or a mind can hide.
ee cummings
Want yourself. Give up your shame. Want other people. Forgive audaciously.
You will die a thousand times before you wake up feeling alive in your own skin. You will love all of the wrong hearts before you realize the strength in yours.
D. Antoinette Foy
The GOD who only knows four words and keeps repeating them: Come, dance with me.
Hafiz
LOVE FUGUE
Did you leave . . . or did I?
(Elliot in the television show
Mr. Robot
)
If you were music, I would listen to you ceaselessly . . . .
Anna Akhmatova
I remember the day I was told (by my mother) that I was God's child.
I am?!
Crazy joy. I was nine years old. I excitedly ran to tell my sister and her friend (who were eight), so that they could know.
It's a whole different world if you are God's child.
Someone known. Someone seen. Someone upheld. Someone with gifts on the way. That world. The child's world.
Fast forward through--
everything
. Tons of shit.
I'm tired.
All the things I used to know, now feel like a pillar I got plastered into just to keep the structure from falling down.
And God?
He's really tired too. Wounded and weeping. Defeated, really. It's a hard world. Would get any God down.
I just want to BE with him. There's nothing to prove--not me, not him.
You are the only one who has understood even a whisper of me, and I will tell you that I am the only person who has understood even a whisper of you.
Jonathan Safran Foer
He knows where I am. If he wants to be with me, he knows where I am. He's invited. He can lie with me in my bedroom, sit with me in my kitchen. Walk down the road with me. He knows where I am, and if he chooses to find me, I'm not going to send him away.


If you wait for me
Then I'll come for you
Although I've traveled far
I always hold a place for you in my heart

If you think of me
If you miss me once in awhile
Then I'll return to you
I'll return and fill that space in your heart

If you dream of me
Like I dream of you
I've longed for you
And I have desired
To see your face your smile
To be with you wherever you are

I'll find my way back to you
Please say you'll be waiting

I vow to come for you
If you wait for me

And say you'll hold
A place for me in your heart.
Tracy Chapman
That's the song I hear God sing.
But does he come?
God and me. Screaming at each other.
Where are you?!? My God, My God, why have you forsaken me??? . . . Adam, where are you!?!
Over by the candy machine. That's where I am. Ha ha.
I don't need anything from you, God.
There, there, shh, shh, it's okay.
I'm not going to take anything from you, ask anything of you, judge you, leave you, misunderstand you . . . I'm just here. I promise I won't obey you; I won't sacrifice anything; I won't keep the rules; I won't pay you; I won't fear you; I won't do any rituals; I won't wear the right clothes; I won't say the right words.
I'll just be me.

You just be you. That's okay by me.
That heart of thine shall be mine,
and this heart of mine shall be thine.
—Chāndogya Brāhmaṇa, Chaper 1
If you need me, God, if you miss me, you can come. I'm here. Sit awhile.
Rest.
Show me your bloody palms and I will kiss them and bind them and put medicine on them. I'll put my arms around you and you can cry. I won't mind. I won't tell anyone. I'm here and I'm not going anywhere.
I got you to look after me, and you got me to look after you, and that's why
. John Steinbeck
You don't have to fear in my presence. You can just breathe. I will breathe, too, unafraid--sad, mad, broken--exhilarated. All of those kinds of breathings.
And I will come and be your noonday sun and make your shadows palaces of light. And you will show me your flowers.
Thomas Merton
Because it's always you.
I feel I stand in a desert with my hands outstretched, and you are raining down upon me.
Patricia Highsmith
Sit with me,
tough, fragile, Beloved God
, and we'll breathe together and the world will continue. Sit until you feel strong enough to rise again.
And I'd choose you
In a hundred lifetimes,
In a hundred worlds,
In any version of reality,
I'd find you and
I'd choose you.
~~The Chaos of Stars
Does he come?
"Pooh," said Piglet.
"Yes, Piglet," answered Pooh.
"Nothing, I just wanted to be sure you were there."