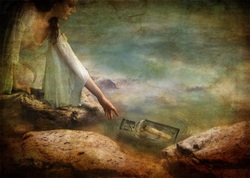 My religion is the Dragon Scroll.
- - - - - -
DreamWorks' movie Kung Fu Panda is a profound story of seekers (and finders!).
Po is a young man on the threshold between childhood and adulthood. All through his childhood he has held the image of himself as a warrior. In his heart and imagination and his storytelling and play, he is a great Kung Fu warrior. The fire burned bright. He was always sure.

Childhood is the place to swim in visions. What is seen in the mind's eye of the child doesn't depend on what is happening in the outer world.
But now Po was gradually seeing more clearly how his outer world did not match this vision. In fact, it was downright confusing. In the fervor of young manhood, he knew that he needed to act now to create his vision into the world. But he was also a little uncertain. These two things fought in him--fervor and uncertainty--as he took his few steps forward.
Po's childhood teacher was his dad, the Noodle Master. Dad, with his eye of love, saw the changes happening with his son and said, "You are almost ready to be entrusted with the secret ingredient of the noodle soup."

But Po was in no condition to understand what his father was offering. He could only feel that he had to run away to out there to find his true self.
So he went to the temple where he knew the Kung Fu Master was and where there were heroes who had been training in Kung Fu their whole lives. It was a special time for the whole kingdom. After a thousand years or so, now the time had come for the ancient Master Oogway to select the Dragon Warrior. Po was deeply excited about this and wanted to be a part of the sacred celebration to see who would be chosen.
When Po left on his journey, he had taken along the noodle cart. He tried to climb the long staircase to the high temple with the noodle cart in tow. But he could only take a few of the stairs before he realized that if he wanted to make that trip, he had to leave the noodle cart behind. The noodle cart was what the world saw him as. The noodle cart was his past. Po didn't hesitate. He made a complete break. The noodle cart meant nothing to him. He was all in for the Kung Fu. Even eating the crumbs of Kung Fu was better than being the king of the noodle cart.
Meanwhile, high in the temple mountain Master Oogway and Master Shifu had a conversation. While Master Shifu was a Kung Fu master, a brilliant teacher, and an undefeatable fighter
, to Master Oogway he was still a child and a student.
Master Shifu asked Master Oogway, "Who is worthy to be entrusted with limitless power--the Dragon Warrior?" He sought an answer to a deep question and expected himself to be high enough in his training and living to hear the answer.
Master Oogway smiled, and replied with infinite patience, with infinite trust in the universe: "I don't know . . ."

This answer surprised and frustrated the hell out of impatient Master Shifu. He hadn't learned yet that it was the only answer there is. But through long experience, he did trust Master Oogway.
So he followed along.
When Po reached the top of the stairs, he found that he was late and so the temple was closed and overflowing with the crowd. He was undeterred and tried every way he could think of to get in. Much of his effort was an exercise in humiliation. The humiliation didn't stop him; Po's desire was bigger than that.

Nevertheless by a crazy set of cause and effect, Po found himself in front of Master Oogway's finger. Po had been selected as the Dragon Warrior.

Master Shifu took this as a huge mistake. Charged with Po's education, he challenged the young man relentlessly. "You will never be the Dragon Warrior until you know the secret of the Dragon Scroll!" Master Shifu didn't even know what the secret was but he didn't mention that. "Do you think I'm just going to hand you the secret to limitless power? You're going to wish he hadn't picked you by the time I'm finished with you!"

Po
submitted enthusiastically to Master Shifu's grueling training. Even though he had moments of weakness and doubt (he had to climb
back
up those stairs), he persisted. "I guess my body doesn't know it's the Dragon Warrior," he humorously deprecated.
Meanwhile we are introduced to Tai Lung and his story. Tai Lung was the son and heir of the temple. He mastered the thousand scrolls of Kung Fu. He was missing only the Dragon Scroll and he was determined to possess it. Tai Lung's power was not in question. He used his opportunities to their fullest. His knowledge in his abilities was certain. In his desire for the Dragon Scroll, he wanted the most magnificent reward for being his most magnificent self. In his quest, he chose darkness to the point that he had been imprisoned.

At a point in the story, Master Oogway passed out of this world and into eternity, leaving Master Shifu to go on as best he could. Master Shifu felt completely inadequate but he pressed forward anyway.

They found out that Tai Lung had escaped his prison and was heading to the temple to exact his revenge. Great fear came over everyone.

"How are you going to change this?!" his student warriors cried to Master Shifu.

Then was that grand moment when the highest answer finally inhabited Master Shifu and he channeled Master Oogway.
"I don't know . . ." His first uncertainty to pass his lips and his heart--and it was the most beautiful realization.
Master Shifu continued to teach Po and prepare him for the fight with Tai Lung but this time from a position of trust without knowing everything.
Finally, it came the hour for Po to be presented with the Dragon Scroll. Po carefully and breathlessly opened the scroll that had been kept out of reach and protected by the dragon.
"It's blank."

Master Shifu took the scroll. "Blank. I don't understand."

All of those faithful warriors were unutterably disappointed at the empty treasure. Even they had to now conclude that Master Oogway was just a crazy old man. They each went their way, nursing their disillusionment.
Master Shifu decided it was best if he alone dealt with Tai Lung.
Po, confused and melancholy, went back down the stairs of the temple with the useless scroll, to the village, and reconnected with his father and consigned himself to making and selling noodles.

His dad met him with complete love and acceptance and tied the noodle apron back around him.
Then he told Po the secret ingredient to the magnificent noodle soup of which he was the master.
"The secret ingredient is . . .--nothing."

Sad Po had only been half-listening up to that point, but for some reason now he perked up.

"What?"

He looked at his father more closely. All his life he had been listening to his father and it only sounded like noodles. But now in this moment, he could hear Kung Fu. The Kung Fu of noodles.

The Kung Fu of everything.
(In fact, Dad knew something that Master Shifu had yet to learn.)
Po scrambled to find the scroll in his bag again. He took it out and opened it. He gasped as this time the the Dragon Scroll was not empty.
Po saw himself.

That was what was in the scroll.
It was not blank.

It was full to overflowing and there was no end.


His father watched patiently as Po joyfully fled back toward the temple to climb the stairs and meet Tai Lung.
Tai Lung had already arrived and was fighting with Master Shifu because Tai Lung was blind enough to believe that that was who the enemy was. "GIVE ME THE SCROLL!!" he screamed in tantrum.
(Not knowing that he had to give it to himself.)
When Po arrived on the scene, as Oogway knew and Shifu was learning, Po didn't know everything ahead of time, but he was completely willing and present. He was completely himself. He was even ready for fun. He was ready to endure. He utilized his environment without wishing for else. That was what he possessed with which to meet with Tai Lung.
Eventually after a long contest Tai Lung was able to take the Dragon Scroll from Po. Tai Lung's triumph was short lived as he found it blank.

"It's okay," reassured Po, "I didn't get it the first time either
."
"It's just you."

Whereas in the case of Po, this realization brought him deep joy and power, for Tai Lung it was only more rage and deeper despair.
Tai Lung did not understand that the only reward in the multi-metaverse
is
being our own self. For Tai Lung, that was unacceptable. It was hell to be himself. (Hell is not hot. It is empty.) The Dragon Scroll was always his but Tai Lung was not prepared to know that. The Dragon Scroll cannot be read with a dark heart. The Scroll is in another language than that.
Perhaps when you first watched Kung Fu Panda you thought it was a story about personal confidence.
I suggest to you that this story presents the only meaning of GOD and life there is to be had.
- - - - - - - -
There is only one religion.
It is the religion of being human, of being a person.
It is the religion of being alive.
It is the religion of having a body, a mind, a spirit; of having arms, legs, noses; of having triumphs and tragedies and long days of boredom. It is the religion of waking up in the morning, of living one day, and of retiring to sleep at night.
In the religious traditions that have been created, there are placed curtains of ritual around the human moments of (for example) birth, passage to adulthood, marriage, passage to elderhood, and death. These traditional external rituals can heighten our joy and awareness of these human moments, as long as we realize that these rituals are only graphs, signs, or metaphors of the actual moments themselves.
Thus the traditional rituals are not the religion. Birth
as itself
is the true ritual, the true religion. Marriage
as itself
is the true religion and ritual, not the additional dance and rites we attach to it.
As well, while moments such as birth, adulthood, and death are grand human passages or markers, and it is well to give them much attention either in their raw or tradition-laden forms; nevertheless, in every spot of time there emerge
many
rituals of being human.
There is the ritual of waking up.
There is the ritual of bleeding.
There is the ritual of being hungry, and of eating.
There is the ritual of fear.
There is the ritual of confidence and happiness. There is the ritual of being weary; the ritual of being strong. There is the ritual of falling down, and the ritual of getting back up again. There is the ritual of gaining, and that of losing.
There is the ritual of being men and women.
There is the ritual of remembering, and the ritual of forgetting.
There is the ritual of laughing, and the ritual of crying.
There is the ritual of inhaling and exhaling—breathing.
If you are looking for heaven or wishing to flee hell, these destinies are found in being human.
Everything that constitutes being a person, being alive, being human—in all its light and dark; its misery, mundane, and glory—is the true and only religion.
Being human is sacred.
This religion and this God is by knowing, experiencing, living, and being.
We are all in the same religion. There is no entering nor leaving this religion. We cannot be admitted nor cast out.
- - - - - - - - -
The Church of the Firstborn.

The Order of Enoch. The Order of the Son of God. The Body of Christ. The Image of God. Ihsaan. Sons and Daughters.
"They shall overcome all things." (Doctrine and Covenants Section 76:60)
Through the struggle, the jihad, the overcoming, we become new creatures, born again. We partake of the fruit and have our eyes opened. We become who we always were. The kingdom of God is us.

Phil (Groundhog Day)
kept waking up to the same day, every day. He kept living the day over and over again. It was the living of this day that eventually taught him what eternity he wanted to create. If he had an eternity of just one day, what should that day be like? Who should he be?

We are all Phil. We are all waking up to the same day over and over again, only we are all on that day together. Over history we have been creating myriads of stories, indulging in myriads of desires. There is never going to be another day. It will always be this day. Now.


Sometimes I laugh so hard, it starts a hurricane in the heavens.
Sometimes, I grin so wide, it causes earthquakes on distant planets.
And sometimes, when I feel so happy I could float, worlds are born, continents rise, and oceans surge.
But never, ever, ever, do I lay so much as a finger on planet Earth. Because there, my work is long over, and yours has just begun.
~The Universe
We are the gods and we are the devils.
There are no others.
Your sickness is from you, but you do not perceive it and your remedy is within you, but you do not sense it. You presume you are a small entity, but within you is enfolded the entire Universe. You are indeed the evident book, by whose alphabet's the hidden becomes manifest. Therefore you have no need to look beyond yourself. What you seek is within you, if only you reflect.
Imam Ali (AS)
Tai Lung was on the quest for limitless power. Master Shifu taught Po to become entrusted with limitless power.
There's a difference.
There is a tradition that Lucifer went to steal glory and honor from God. Tradition says that this was an evil and a downfall because Lucifer did not have any right to the glory and honor.

I tell you that this is inside out.

The secret is that Lucifer is a son and heir. He always was. He was trying to steal something that he did not understand was already his. There was nothing to steal. He was denying what he already had been given and that could never be taken away.

Jehovah understood that he was the son and heir. All that the Father had was his. Here am I. Send me.

Matt Kahn
had a vision where Jesus and Buddha and Moses and several others gathered together to meet him. As Matt stood in jelly-kneed awe, all of those gathered put up their hands and removed the masks from their faces. Behind the masks, they were all Matt Kahn.
We will see face to face and know as we are known.
(First Letter to the Corinthians)
What
is
the revelation of GOD?
The thousand scrolls of Kung Fu could not save Tai Lung. Only the Dragon Scroll. Something so plain and without mystery. Something so plain that we cannot see it because we insist to wander in mystery.
There is Kung Fu. And then there is KUNG FU.
The scroll token that Po received was just that--a token. The secret and the power is never in the token. The actual Dragon Scroll is in 3-D living reality. The Dragon Warrior.

YOU are the Dragon Scroll.

You are the avatar. The incarnation. The Word.


GOD is bound to you. If GOD is in the world, it is because you have brought her here.
"I am the God dwelling in the house of God." (Matt Kahn)
The Beloved. Brahman. Emmanuel.
You and the magic are one.
(Mike Dooley)
It's all KUNG FU.
From the noodle kitchen to the temple.
Here is the greatest of altars, the living, conscious human body, and to worship at this altar is far higher than the worship of any dead symbols.
(Swami Vivekananda)
- - - - - - - - -
My religion is being alive and being a person.

My religion is breathing.
I am.
- - - - - - - - - - - - - - - - - - - - - - - - - - - - - - - - - - - - - - - - - - - - - - - - - - - - - - -
Behold the Dragon Scroll

It is yours

Legend says you will be able to hear a butterfly's wing beat

See light in the deepest cave

You will feel the universe in motion around you

Read it and fulfill your destiny

Read it and become the Dragon Warrior
(from DreamWork's Kung Fu Panda)
. . . Skadoosh . . .