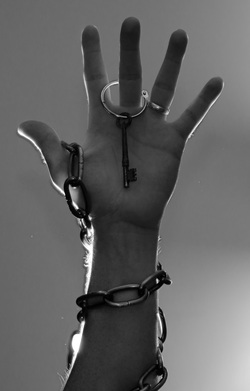 "Give me strength that I may burst these bands with which I am bound."
Nephi
The human body.

And sewn with it, life energy.

And sewn with that, the I AM.

We think. We feel. We do.

We experience. We perceive. We tell the story of our experience and of our perception.

We decide. We believe. We know.

We breathe. We sleep. We move. We pee. We feed. Endless workings-- from the minute factories of cellular ATP production, to the hinges of knees and elbows, and all the amazing between and beyond.

We know ecstasy.

We know love.

We know pain.
We know loss.
We bleed.
We find ourselves attached to this space we call planet Earth. So far, we are stuck here on a finite piece of real estate.

And there are billions of us.

We each inherited a particular paradigm based on who we were born to. Our birth determined what story of history, what story of the world, and what story of our body (and self)
was transmitted to us.
All of us have that paradigm adjusted multiple times depending on what we continue to encounter on our life journey. But it becomes obvious as our sight widens to comprehend the world that things just aren't exactly the way we once thought they were, say, when we were seven years old. There's no way.

So we walk the earth with this body and so is every other person with their body. The body is the avatar for our experience and choice in this world. It is our avatar for interacting and connecting with each other.
Our body has an energetic boundary that is meant to be our protection as well as to facilitate intimacy. All things are done through and by the body. When I speak the word "body", I refer to all that
is
about being human. Even if we can speak of and explore parts (such as mind or spirit, etc.), for all purposes relating to this world the parts come into
one
in the body. Our living, and acting and choosing and loving, is done from the body. The body is the mysterious, sacred expression of our self. The image of God (Genesis). The
Word
of God (The Gospel of John). (A word is a vessel.)
One of the potentials of a human being is to live with the structure of their body and boundary fully intact, in full integrity.
Unfortunately, the planet is full of human beings that are not intact (speaking generally and not accounting for each individual). Our bodies are not intact. Our boundaries are not intact. Our selves are not intact.
The planet is full of human beings
whose body, boundary, and self structure have less than the full potential of integrity.
The name for the act that causes this kind of human damage is: violation or violence.

The planet is full of human beings who have been violated. This planet is full of human beings who are violators.

When a human being is in a condition where she is not violated neither does she violate, this is called innocence.

There is very little innocence in this world.
There is a somewhat long list of the kinds of violation that are possible. There are several kinds of actions that result in the breach and injury of the integrity and the sound anatomy of our boundary and body and self.
In this writing, I am focusing on just one, and that is the violation of slavery.
_ _ _ _ _ _ _

If the wound or disease is slavery, then the healing is self-determination.
Self-determination means that each human being determines and is responsible for (among other things) the thoughts they think, the beliefs they subscribe to, the decisions they make, the creations they create, the associations they maintain, the actions they take.
Each human being determines and is responsible for their identity and their course of life. Each human being determines and is responsible for the safety and integrity of their body.
"Thou mayest choose for thyself, for it is given unto thee."
(Book of Moses, The Pearl of Great Price)
In the absence of self-determination, we are vulnerable to (further) violation of our being (body and boundary). In the absence of self-determination, integrity is not possible. The greater the self-determination, the greater the potential for integrity and the greater the opportunity to keep our body, boundary, and self intact.

Good can only be grown from the ground of self-determination. Love can only arise from the state of self-determination. A slave cannot love. A slave cannot be good.

Yes, in self-determination there is always the risk that some humans will choose to harm others (evil). But the problem of lessening the risk of harm by curtailing self-determination is that good also is curtailed. Compliance is not righteousness. Good can only come from the free. A self-determining human being can limit the ignorant or deliberate harm that others do to her.

The condition of slavery is effected and maintained by consent. We participate. We are not slaves without our consent. We are slaves by consent. Once we withdraw our consent, we are no longer slaves. Our self-determination and self responsibility is activated.

Most on the planet don't understand this. Perhaps we do not consider slavery at all. Or perhaps we consider slavery to be externally applied and consisting of architecture and devices (iron bars and chains) and either we are wearing or not.

Indeed, there is much in this world that is designed to lead to the violation of the human body and to the slavery of the human being. And in the face of those energies and designs, we are often too weak to do other than give our consent. Often the consequences to not tendering consent are very grave; even in some cases to the point of the life or death of the body or of the bodies of those we love.

The world is full of paradigms designed to induce slavery. The world is full of violence, or implied or threatened violence, designed to induce slavery. The world is full of the promise of pain and blood designed to herd us to slavery. The world is full of coin designed to buy our consent.
We are weak in the face of coin. We are weak in the face of violence. We are weak in the face of pain and blood. And we are weak in the face of the strongest inducement of them all--the paradigm(s) of slavery. We are weak; and in our weakness, we give consent for our own slavery and the slavery of others.
Birds born in a cage think that flying is an illness. Sun Ra
Consent and/or the withdrawal of consent is not a wimpy thing. Forsaking slavery and embodying self-determination takes a great deal of awareness, courage, practice, and strength of spirit and body.

I invite you to confirm self-determination. Yours and others'.

_ _ _ _


Justification is an essential element of the paradigm(s) of slavery. A truth is fashioned. Bullet-point reasons of why your consent is necessary. Concede your body and determination here and this way and at this time and this is why.
Slavery is accepted as legitimate and, worse, as true and right.
We can't trust ourselves and others to act according to our own respective determination
. The fear is massive.
Ultimately, however, systems and ideas do not enslave. People do. We as human beings create, or subscribe to, maintain, and participate in paradigm
. We keep paradigm repaired. We patch it up, add a flourish or two, and send it forward to the next generation of slaves.
To fully live in self-determination and offer and preserve it for others (so that we are not enslavers) may require a lifetime project of jihad (struggle to birth) and reclamation.

Christ has set us free to live a free life. So take your stand! Never again let anyone put a harness of slavery on you
. (Letter to the Galatians, New Testament)
Do not be the slave of anyone when God has created you free.
Imam Ali
Reclaiming our self-determination and withdrawing our consent from slavery is a
quiet, personal moment and takes an instant. We do not have to protest loudly or take permission from anyone. Choose to be one hundred percent responsible for your body and the course of your life, and allow no man to lay hold on either without
your
permission.
Living the expression of that self-determination and allowing it for others may take a little longer. Dissolving personal and social structures of oppression may take time, commitment, and creativity. But remember, no one enslaves you but yourself.
Do not say, "They or that [fill-
in-the-blank] did this to me," and then fight or wrestle with them for some agreement, consent, or permission they do not know how to give and that is not even in their hand to give. Even if it's almost true--such as some of the things that happened to you when you were a child--once you are adult and aware, then you can withdraw now. Do not remain in the cage that was formed for you when you now see the key in your hand.
_ _ _ _ _
The Earth is covered in the cancer of The State. The State is a structure of slavery (for those who participate; we have to participate and give consent in order for The State to function). The State is a structure set up for purposes of propagating violation (violence) of all kinds.
People laugh about mind control, but really it is the only way. A person does not peacefully consent to their own slavery unless there is a paradigm involved which we cannot see past, much less act differently from. (The other reason for peaceful tender of consent of being enslaved is in exchange for money or other similar gain. The State does well with those transactions also. If all else fails, your consent is maintained by the implied or explicit violence that backs The State.) The paradigm of The State and its slavery is entrenched within us. It is only with great difficulty that we can untangle the threads.
The State owns our bodies. This ownership is effected through the paradigm of patriotism. Patriotism requires that we tender our body for the purposes of The State, for the execution of further violence. Think about it. You may be able to live along in your life without seeing this, but the moment that a body is needed in order to give and take gunfire (or other assault on other human bodies owned by another State), your "no" is not permitted. (We still have a choice, but then the violence of The State will be brought to bear on us.) In between wars, your body has been trained by The State to be employed in the machinery of gross national product.

The State is not a vessel of law. Human beings are the vessels of law--or not. A human being does not need a State to know, understand, and live law. Law is a something we choose and seek.
Law is a seed planted that leads to a given fruit born from that law or seed. So if we want the fruit of peace, life, freedom, etc, then we have the opportunity to live the Law(s) for those conditions. We must be persuaded of Law and come to know it of ourselves and to choose it deliberately and actively. We ought not to be forced to Law, otherwise we are that slave.
Self-determination does not mean we create Law. Law is written into the fabric of the universe and of being human and is an ever-upward spiraling constant--that stairway to heaven that we can climb. But self-determination means that we each of our own selves come to know and come to decide our relationship to that Law. No one can do that for us. No one can light our lamps for us. If we are not persuaded of the Law, then we are a mark of suffering on this planet.
Others will bear our sins
. But The State can never, ever, ever in a thousand million years be an answer or healing to this struggle of the eons to
freely
become who we are meant to be.
When men are pure, laws are useless. When men are corrupt, laws are broken.
Benjamin Disraeli
Written not with ink, but with the Spirit of the living God; not in tables of stone, but in fleshy tables of the heart.
(Second Letter to the Corinthians, New Testament)
But this shall be the covenant that I will make . . . After those days . . . I will put my law in their inward parts (mind), and write it in their hearts.
(Book of Jeremiah, and quoted by the writer of Hebrews, New Testament)
We are living by the law of freedom because freedom does not live in us.
Lilu Mars
Law cannot come from the outside and be applied upon us. It must operate from within us.
_ _ _ _ _
Stop enslaving others.
Stop violating others.
Tend to yourself and the snow on your own doorstep and the beam in your own eye.
Trust. Trust people with their own fuck-ups and just let it go. Everyone is on a journey and everyone will figure it out eventually. Just keep confirming over and over their self-determination and affirm the best that is in them. Let them fashion their own happiness. If they got it wrong, they will know soon enough. If you are person who sees God, trust that God is capable of teaching his own children. He does not need your hand on the ark.

Learn how to protect yourself from those who come toward you with true harm. Learn how to limit them. But never enslave them. Set them free again and tell them, "That wasn't it. You can't have me. Now try again, and see if you can come to yourself."

It's none of your business if someone else is "going" to heaven or hell.

The only business you have is to create what heaven you want to surround yourself with and invite your loved ones and any friendly stranger into that refuge.

Or if heaven is just too big a project, just breathe. And let every other human being breathe too.
Let them breathe without placing any chain on them.

Come back to yourself.
"Do not draw the battle-lines against any person, or any people, but rather against
what is separating you from investing in their liberty
, as it were the chains in
your
mind and spirit." Liv Helmore
Stop wearing the skin of Pharaoh.
The cry of Musa:
Let my people go.
Let people go.
_ _ _ _ _

And now I speak of freedom.

While self-determination is the ground or primary condition of being human, freedom may or may not arise from the exercise of self-determination. Freedom comes from the exercise of our self-determination in living by and acting in principles of freedom. Freedom is not a yes or no proposition. It is experienced over a spectrum. We have the opportunity to learn and increase our freedom throughout our lives. Like self-determination, freedom also cannot be given to us or taken away. We are the ones who create our freedom. And again, it's not a project for wimps, ha ha.

I invite you to hunger and thirst after freedom and to follow its course.


Bene Israel were led by Moses out of Egypt. But it was only the beginning of their journey. They were still slaves in their minds and in their hearts. The Pharaoh wasn't the only man not ready for the freedom. It took the Children of the Prevailing God forty more years of journey for them to understand their freedom and be prepared for the Promised Land. This is an allegory for our personal life. The purpose of this lifetime we find ourselves in
is
to know our freedom. "How can we look at our life experience in a way that liberates us from suffering and liberates those who we come into contact with from suffering?
We begin to see our life experiences as Grace – as a set of opportunities through which we can become free.
The predicament is that as you awaken you realize you have been the perpetrator of the conspiracy you got caught in." Ram Dass (Italics are mine.)
Oppressor or slave--each of us, both of us (and we are both)--all of us may become ready for our freedom: the glory of our planet that we will know. The seeds of freedom are already planted in this world and are being nourished.
All you have to do is put your hand in and participate in freedom with us.
_ _ _ _ _


You will encounter many, many persons on this planet who simply do not know yet. They do not know their own self-determination. They do not respect the self-determination of others. They violate. They are damaged by violation. They do not know how to create freedom. Or if they do know self-determination and freedom, they are still weak and at the beginning of the journey.
Have compassion and patience with the unaware. Be an example. But never imagine that you can free another. Each person has to walk out of slavery on their own determination. We have to free our own selves.
Now.
END SLAVERY.
"If slavery is not wrong, then nothing is wrong."
Abraham Lincoln
Mufasa
Like a Wavin' Flag